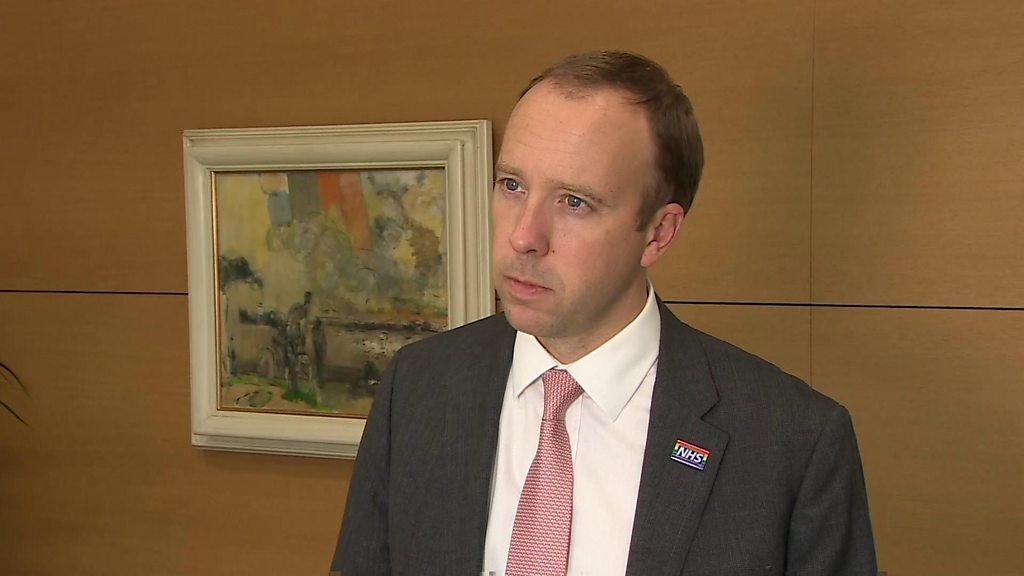 Parts of Greater Manchester will not have lockdown restrictions eased as planned following a government U-turn.
Measures in Bolton and Trafford were due to be eased overnight after a fall in cases earlier in August.
But they will "now remain under existing restrictions" following "a significant change in the level of infection rates over the last few days", the government announced.
The region's mayor Andy Burnham said the U-turn had been "complete chaos".
The boroughs had been due to allow people from different households to meet indoors and businesses to offer close contact services such as facials, but that has now been halted.
Health and Social Care Secretary Matt Hancock said the decision was made "in collaboration with local leaders after reviewing the latest data" which showed infection rates had more than trebled in Bolton in under a week and doubled in Trafford since the last review.
"We have always been clear we will take swift and decisive action where needed to contain outbreaks," he added.
A spokesman for Labour leader Sir Keir Starmer described the U-turn as "utterly chaotic" and it gave people "no confidence in the government's approach".
Greater Manchester Mayor Mr Burnham compared the government's weekly announcements on local coronavirus restrictions as "like waiting for the white smoke out of the Vatican".
"It's not working, it's confusing people, it's causing anger and resentment," he added.
"In my view, it's local councils that need to be in the driving seat here, working then in consultation with the government."
Trafford's Labour council leader Andrew Western tweeted: "We should never have been put in this mess in the first place; this has massively damaged public confidence in measures."
Bolton Council leader David Greenhalgh said it would have been "irresponsible not to recognise the unpredicted spike we have seen in Bolton".
He said he recognised "many people will be extremely frustrated and annoyed by this decision" but the borough had recorded the second highest increase in positive cases in the country.
'Disappointed'
A Covid-19 spike in Bolton and Trafford prompted council bosses to ask for restrictions to remain in place a day before they were due to be lifted.
Bolton currently has one of the highest rates of new virus cases per 100,000 residents in England.
Chris Green, Conservative MP for Bolton West, had argued that restrictions should be eased in his constituency.
But, following the U-turn, he said the government had based its decision on recent data which he hadn't seen.
He has since tweeted to say he was "disappointed at how this important decision has been communicated because of the impact this will have on people's lives".
Lockdown restrictions were eased on Wednesday in Stockport, Burnley, Hyndburn, parts of Bradford, excluding Bradford city and Keighley town, parts of Calderdale, excluding Halifax, and parts of Kirklees, excluding Dewsbury and Batley.
According to government rules, people living in these areas can now:
Socialise in groups of up to two households indoors or in private gardens
Stay overnight at somebody else's home but must try to social distance
Book close contact services such as facials and brow or eyelash treatments
Visit bowling alleys, roller rinks, soft play centres and casinos
Measures were imposed at the end of July amid a rise in cases.
Stockport has joined Wigan in being allowed to have two households socialise indoors.
But in Bolton, Trafford, Manchester, Salford, Rochdale, Bury and Tameside it is still banned. In Oldham people are advised not to meet up with other households outdoors as well.
Analysis
By Daniel Wainwright, BBC England Data Unit
The rise in cases in Trafford and Bolton shows how quickly the situation with coronavirus can change.
On Friday the government announced it was easing the localised lockdown restrictions in parts of Greater Manchester from Wednesday – a decision it has now reversed in those two areas.
Pointing to data for the week to 20 August, it said "cases in Bolton and Stockport fell from 25.6 (per 100,000 residents) to 18.9, and 23 to 15.1 respectively, and Trafford fell from 27.1 to 17.8."
Yet even then, there was concern that the rate was rising. The Labour leader of Trafford Council, Andrew Western, said the more recent data had shown a "slight increase".
By Tuesday, the spike in Bolton had also become apparent and council leaders in both areas were calling for the easing of restrictions to not go ahead.
According to data released on Tuesday evening, Trafford's rate for the week to 29 August was more than 35 cases per 100,000.
In Bolton it was 59 cases per 100,000, driven in particular by high numbers of cases on 27, 28 and 29 August.
Catalina Sastra, who runs the Party and Play, funhouse in Bolton was planning to re-open next week but said the changes were confusing.
"We're teetering on the edge… we are due to open with an online booking system, temperature reading, we've had all the screens put up… but it's just if it's on or if it's off", she said.
"It's a bit like playing hokey-cokey. Are we in or are we out?"
A Department of Health and Social Care spokeswoman said: "We are working closely with leaders and local authorities across Greater Manchester and Lancashire in response to the changing situation and we keep all local restrictions under constant consideration."
Why not follow BBC North West on Facebook, Twitter and Instagram? You can also send story ideas to northwest.newsonline@bbc.co.uk