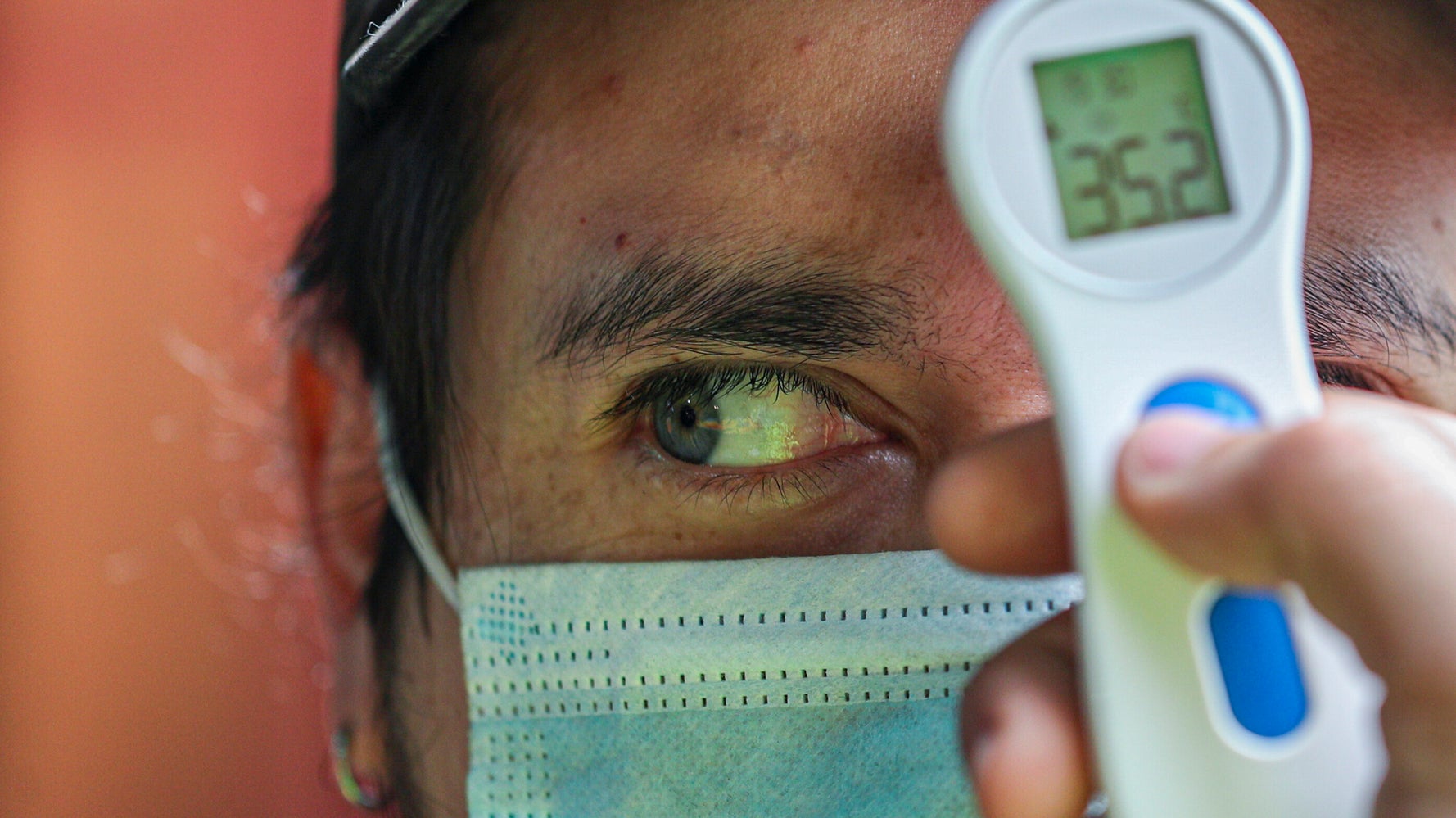 More than 1,300 people have contracted the virus in the state. It is faring better than other states including Florida and Arizona, which have seen enormous spikes in cases as elected officials continue to downplay the virus.
— Sebastian Murdock
U.S. Records More Than 4 Million Coronavirus Cases — 7/24/20, 5:45 a.m. ET
Coronavirus cases in the U.S. surpassed 4 million on Thursday, according to Johns Hopkins University data. More than 144,000 Americans have died from COVID-19.
Hospitalizations and deaths have also been on the rise in the U.S., and cases have been trending upward in 39 states, the New York Times reports. The number of people hospitalized across the country approached the high of 60,000, which was reached April 15.
Some states and localities around the country have been rolling back their reopening measures to try and curb the spread of the virus, and others have started mandating the use of face masks in public spaces. But the lack of progress has alarmed public health experts.
"We've rolled back essentially two months' worth of progress with what we're seeing in number of cases … in the United States," Dr. Ali Khan, dean of the University of Nebraska Medical Center's College of Public Health, told CNN.
— Liza Hearon
Australia Deploys Army As Daily Death Toll Hits New High  — 7/24/20, 4:10 a.m. ET
The Australian state of Victoria will send in the army to question people who have tested positive for COVID-19 as it battles to control an outbreak that claimed a record number of lives on Friday.
The state recorded six deaths overnight, the highest daily toll for the nation since the pandemic began. It also recorded 300 new infections, dropping from a record of 484 on Wednesday.
Victoria will deploy Australian Defence Force personnel to the homes of people who have tested positive and who have not answered telephone calls, in order to kickstart the contact-tracing process.
A flare-up of infections in Melbourne prompted the government to enforce a six-week partial lockdown and make face masks mandatory for its residents or risk a fine.
All the deaths overnight were linked to aged care homes, of which more than 40 have recorded outbreaks.
Two cases were detected among Aboriginal people in the regional Victorian city of Ballarat, a cause of concern for officials given a high degree of health issues among Indigenous Australians.
Australia has so far escaped the high COVID-19 casualty numbers of other nations, with just over 13,300 infections and 139 deaths from the virus as of Friday. Read more
— Reuters
Washington State Cracks Down On Bars, Dining, Gyms And More ― 7/23/2020, 6:37 p.m. ET
Washington Gov. Jay Inslee (D) announced Thursday he is implementing stricter rules on bars, restaurants, gyms, weddings and funerals in the state.
All of those businesses and events may still operate in some capacity, but will face tighter limits on crowd size and indoor use. A list of the guidelines is available here.
Washington has seen more than 6,400 new cases of the coronavirus in the past week.
― Lydia O'Connor
Florida Sees Its Youngest Fatality As State Pushes To Reopen Schools — 7/23/20, 3:50 p.m. ET
A 9-year-old girl in Putnam County, Florida, has died from complications due to COVID-19, making her the state's youngest fatality in the ongoing pandemic. 
Florida Department of Health records show the girl is the fifth minor in the state to die from coronavirus. Two 11-year-olds, a 16-year-old, and a 17-year-old have also died from the disease.
Putnam County Health Officer Mary Garcia confirmed the death to CNN, noting she was unaware if the girl had any underlying medical conditions.
Florida currently has 389,868 confirmed cases of COVID-19 and 5,518 deaths, though both numbers likely underestimate the real burden. Children between the ages of 0 and 14 account for roughly 6% of the cases; that percentage jumps to 22% if the 15-24 age range is included.
The death comes as Florida Gov. Ron DeSantis (R) urges Florida schools to reopen to in-person classes this fall. 
"I look particularly at those elementary school kids, and the science on that is just overwhelming. Yes, they're at almost zero risk, but even more than that, transmission from an elementary school [student] to an adult is extremely rare," DeSantis said at a press conference last week. "I think generally for schools, the kids aren't vectors, but you know, as you get into 17-18 [years old], I think you can probably find some examples of that."
— Ryan Grenoble
Senate Republican Stimulus Bill Is Not Expected To Include Paid Sick Leave — 7/23/20, 12:26 p.m. ET
Senate Republicans are expected to unveil a $1 trillion economic stimulus package to provide additional aid to Americans whose financial situations have cratered because of the pandemic. However, the bill is not expected to include sick leave ― which, as HuffPost's Emily Peck reports, separates the U.S. from virtually every other high-income nation in the world.
― Marina Fang
NFL To Require Masks For Fans — 7/23/20, 5:30 a.m. ET
Fans attending NFL games this season will be required to wear masks, a league spokesperson said Wednesday.
"For those wondering, yes, it is league-wide," Brian McCarthy wrote on Twitter.
While the league is still moving forward with its plans, teams have differing views on whether fans will be attending their games. The Atlanta Falcons said Wednesday they will host 10,000 to 20,000 fans at their stadium. But the New York Jets and Giants won't have fans at their stadium.
There is still the chance the NFL season could get postponed or canceled as the pandemic continues.
— Liza Hearon
Trump Says He Wants 'Schools Open 100%' Despite Coronavirus Cases Mounting In Many Areas — 7/22/20, 6:30 p.m. ET
At the White House coronavirus briefing on Wednesday, President Donald Trump again insisted that schools should reopen fully for in-person learning for the new school year, despite the growing threat of the coronavirus pandemic in many states. 
"I'd like to see schools open," Trump said, noting it's "up to governors" to decide what schools in their states will do, whether in-person or virtual learning.
"I'd like to see the schools open 100% — we'll do it safely," he added.
Trump also said, without evidence, that children "don't transmit very easily" COVID-19, adding that "a lot of people are saying… they don't bring it home with them."
Scientists are still unsure the extent to which children can spread the virus. 
Experts say schools are going to need a lot of money — more than $100 billion, according to several estimates — if they are to reopen safely, with funding for more nurses on-site, more frequent cleanings, more masks and plenty of hand sanitizer, among other measures. 
Other countries that have successfully reopened schools did so after transmission rates reached low points. In the U.S., COVID-19 cases continue to grow in many areas, particularly in Florida, Arizona, Texas and California.
The U.S. continues to lead the world in coronavirus cases and deaths, with more than 3.9 million confirmed cases and over 142,000 dead so far. On Tuesday, the U.S. surpassed 1,000 daily coronavirus deaths for the first time this month, according to The New York Times, recording 1,120 deaths from COVID-19 — the highest number since late May. 
Earlier this week, teachers in Florida filed a lawsuit against the state for forcing schools to reopen as the virus has surged there in recent weeks. On Wednesday, Gov. Ron DeSantis (R) insisted parents should have the option to send kids to school or keep them home for virtual learning. 
— Sarah Ruiz-Grossman
Florida Gov.: Parents Should Choose Between Distance And In-Person Learning — 7/22/2020, 5:47 p.m. ET
Florida Gov. Ron DeSantis (R), whose state counted more than 9,700 new coronavirus cases on Wednesday, said parents should have the option to send their children to school or keep them home for virtual learning.
"I believe we owe every Florida parent a choice to send your child back to school for in-person instruction or to opt to maintain distance learning," DeSantis said at his Wednesday press conference. "No parent should be required to send their child to in-person instruction if they don't want to."
He also said he supports schools getting the option to delay in-person instruction by a few weeks.
His comments come two days after the Florida Education Association, a union representing the state's teachers, filed a lawsuit against the state for forcing schools to reopen under dangerous conditions.
"The governor needs to accept the reality of the situation here in Florida, where the virus is surging out of control," FEA President Fedrick Ingram said.
— Lydia O'Connor
Several States Tighten Mask Requirements Amid Coronavirus Spikes — 7/22/20, 5:15 p.m.
Governors in four states enacted or strengthened their face mask requirements to address the summer surge of COVID-19. Indiana, Minnesota, Ohio and Oregon made the orders one day after President Trump, for the first time, publicly urged people nationwide to wear masks to stop the spread of the coronavirus.
Indiana Gov. Eric Holcomb (R) plans to sign an executive order to require people in the state over the age of 8 to wear a cover over their faces any time they are in public. The mandate takes effect Monday. 
In Ohio, which shares a border with Indiana, Gov. Mike DeWine (R) issued his first statewide face mask requirement on Wednesday. Ohio's mandate takes effect Thursday. 
Minnesota Gov. Tim Walz (D) issued an executive order that only called for people to wear face masks in indoor spaces and businesses, unless the individual is alone. Those who work outdoors in Minnesota are also required to wear a face covering if they are not able to socially distance. The new rules go into effect Saturday morning.
Walz said he hoped to get a "90 to 95% compliance" from people in the state in the hopes that they can "reduce the infection dramatically," adding that it was the cheapest way to open up businesses and schools, KARE 11 reported.
Oregon Gov. Kate Brown (D) made the state's mask requirement more severe, requiring face coverings in public indoor spaces for anyone age 5 or older. The original age minimum was previously set at 12.
Some states are still resisting face mask regulations, despite experiencing an increase in coronavirus cases.
Georgia Gov. Brian Kemp (R) banned city and county leaders from issuing local mask mandates, and sued the city of Atlanta after Mayor Keisha Lance Bottoms, who has tested positive for the virus, enacted a mask requirement.
— Carla Russo
California Surpasses New York For Highest State Total Of Confirmed Cases — 7/22/20, 11:05 a.m.
California now has more than 409,000 confirmed coronavirus cases, the highest number of cases in any state, according to Johns Hopkins University's COVID-19 tracker. Previously, New York had recorded the most cases.
At the start of the pandemic in March, California was the first state to issue a stay-at-home order and impose restrictions. But in recent weeks, the state has seen a surge in cases, after state and municipal leaders lifted restrictions too early.
—Marina Fang
Pfizer Announces Deal To Produce 100 Million Doses Of Vaccine By December — 7/22/20, 10:00 a.m. ET
Pharmaceutical giant Pfizer and a smaller German company, BioNTech, announced a deal with the Trump administration to produce 100 million doses of a COVID-19 vaccine by December, which would be available to Americans for free.
Under the $1.95 billion contract, the companies would provide the first 100 million doses at the end of the year, plus an additional 500 million doses in 2021.
Before being distributed, the vaccine would have to obtain emergency approval by the Food and Drug Administration, which the companies say could happen in October.
As part of the Trump administration's push to produce a vaccine by the end of the year, various companies are racing to develop one, with several set to launch wide-scale trials this month.
—Marina Fang