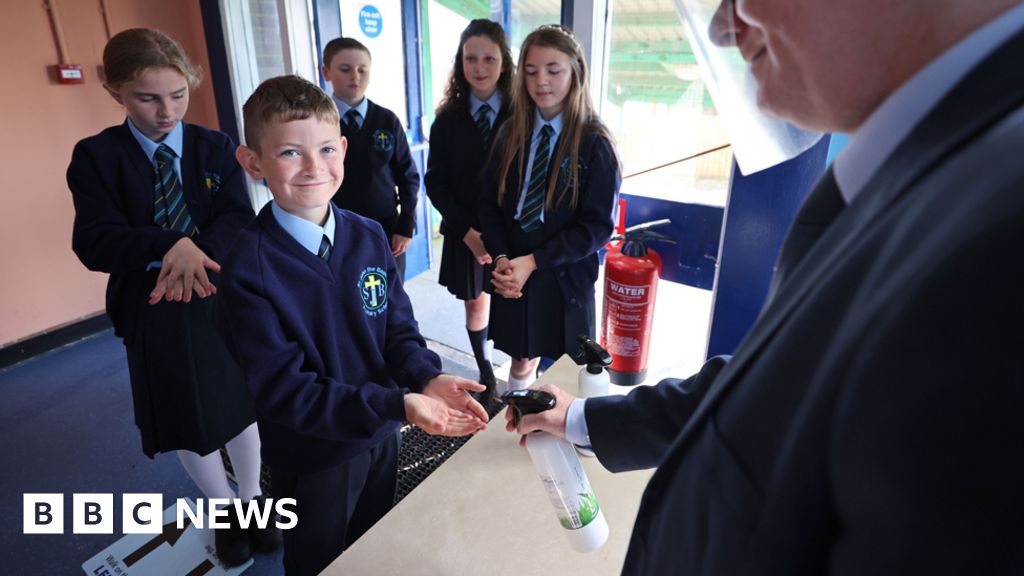 It is "vitally important" children go back to school, with the life chances of a generation at stake, Boris Johnson has said in a message to parents.
As the autumn term begins in Northern Ireland, the prime minister said the risk of contracting coronavirus at schools across the UK was "very small".
He said "it is far more damaging for a child's development and their health… to be away from school any longer".
Mr Johnson's words echoed those of the UK's four chief medical officers.
They have all signed a joint statement alongside deputy chief medical officers to reassure parents schools could mitigate risks during the pandemic.
In Scotland, schools have already reopened. Some pupils in Northern Ireland are returning to school on Monday, while term starts in England and Wales in September.
Mr Johnson thanked school staff for spending the summer "making classrooms Covid-secure", in a statement released on Sunday evening.
And in a video message shared on Twitter, he said children faced physical and mental health risks from not being in the classroom.
"The best way to tackle any mental health problems is to get our kids into school in September," he added.
Citing comments from England's chief medical officer Prof Chris Whitty at the weekend, Mr Johnson said the risk of catching coronavirus in school was "very small and it is far more damaging for a child's development and their health and wellbeing to be away from school any longer".
"This is why it's vitally important that we get our children back into the classroom to learn and to be with their friends," he added.
"Nothing will have a greater effect on the life chances of our children than returning to school."
Prof Whitty said on Sunday that children were more likely to be harmed by not returning to school next month than if they caught coronavirus.
He cited evidence of children "much less commonly" needing hospital treatment or becoming severely ill with coronavirus than adults.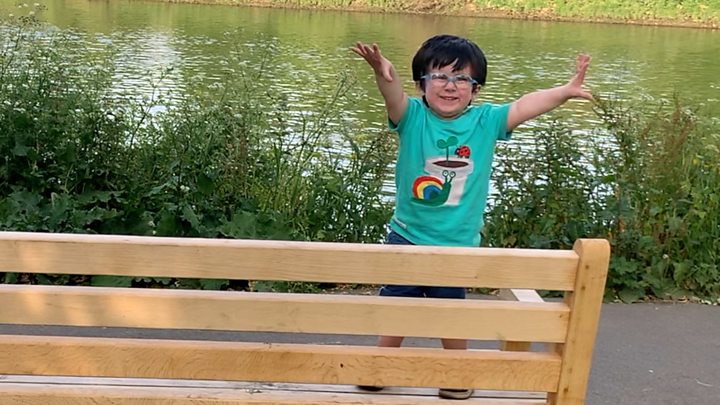 According to the Office for National Statistics' latest data on ages, there were 10 deaths recorded as "due to Covid-19" among those aged 19 and under in England and Wales between March and June – and 46,725 deaths among those aged 20 and over.
And of the more than one million children who attended pre-school and primary schools in England in June, 70 children and 128 staff were infected in outbreaks of the virus, according to a Public Health England study published on Sunday.
Coffee breaks 'risk factor'
It said most of the 30 outbreaks detected in that time had likely been caused by staff members infecting other staff or students, with only two outbreaks thought to involve students infecting other students.
The study also suggested children who went to school during June were more likely to catch coronavirus at home than at school.
Dr Jenny Harries, England's deputy chief medical officer, told BBC Breakfast the study should "reassure" teachers that transmission from students to teachers was rare.
But she said the higher risk of staff-to-staff transmission meant teachers should remember "when it's their coffee break, and they get a well-earned rest in the day, to ensure that they maintain their social distancing, good hand hygiene, all those sorts of things while they have their break, because that does seem to be a risk factor".
No 'plan B'
Separate guidance for reopening schools has been published for England, Scotland, Wales and Northern Ireland.
Paul Jackson, head teacher of a primary school in east London, told the BBC that it would have been useful to have clearer guidance from the government for school leaders and additional funding to help to pay for extra cleaning and other resources.
"Whether you are a very small school, with maybe just 70 pupils or whether you are a large school like us with 750 pupils, the guidance issued is exactly the same," he said.
The NEU, the UK's largest teaching union, said schools are being let down by the lack of a "plan B" as they prepare to reopen.
It said more staff, extra teaching space and greater clarity on what to do if there is a spike in cases was needed for schools to reopen safely.
Shadow education secretary Kate Green said the responsibility of getting children back to school should not lie with trade unions, and that ministers had spent the past two weeks "totally pre-occupied with their own exams fiasco when they should've been out supporting schools and reassuring parents".
A Downing Street spokesman said Mr Johnson was "sorry for any distress that has been caused" by the way A-levels and GCSEs were graded as a result of the pandemic leading to exams being cancelled.
"Our focus has been and will be ensuring that students can move onto the next phase and ensuring kids can get back to school next week," the spokesman added.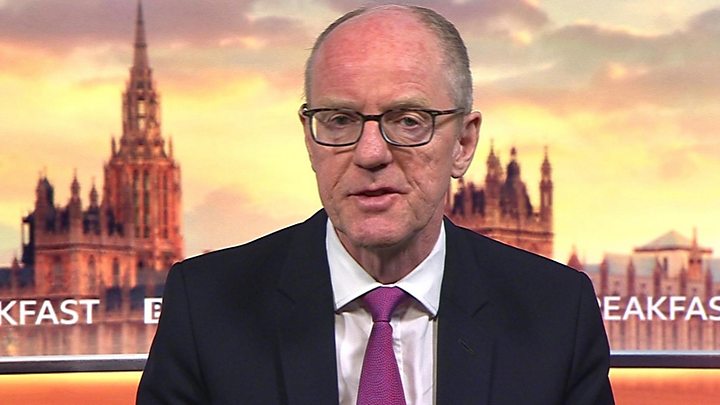 Simon Kidwell, head teacher at Hartford Manor Primary and Nursery in Northwich, Cheshire, said any inconsistencies in schools' approach to the virus – such as one closing due to an outbreak, but another staying open – would "erode parental confidence".
Dr Harries said, if a pupil tests positive the school should seek advice from the local Public Health England team, in line with government guidance for schools in England. She said "it may not always be necessary for a [classroom] bubble to go into isolation" and that it will depend on the school's "local circumstances".
Kay Mountfield, head teacher at Sir William Borlase's Grammar School in Marlow, Buckinghamshire, told BBC Radio 4's Today programme that her school would reopen with safety measures such as Perspex screens around teachers' desks, and had hired marquees to provide extra classroom space.
But she echoed Mr Jackson's call for clarity and support, and urged the government to set up a dedicated helpline for educational leaders so that if schools need advice about keeping their sites safe, "we are not going to be sitting up at two in the morning, dialling 111, as we were before we went into lockdown".
Meanwhile, the wearing of face coverings in corridors and communal areas of secondary schools is set to be introduced in Scotland.
First Minister Nicola Sturgeon said the move was in response to the World Health Organization (WHO) issuing guidance saying children over the age of 12 should wear masks.
Education Secretary Gavin Williamson wrote in the Sunday Times that he wanted to reassure every parent and pupil schools were "ready for them", and the autumn return to schools was "more important than ever".
But he was later forced to defend taking a trip to see family in North Yorkshire this month, amid claims he missed a "crucial meeting" a week before A-level results were due.
Liberal Democrat education spokeswoman Layla Moran said the country and "seemingly the PM" had "lost faith" in Mr Williamson.
"To restore confidence among parents, pupils and teachers the best thing the prime minister could do is sack him, rather than speak for him," she said.