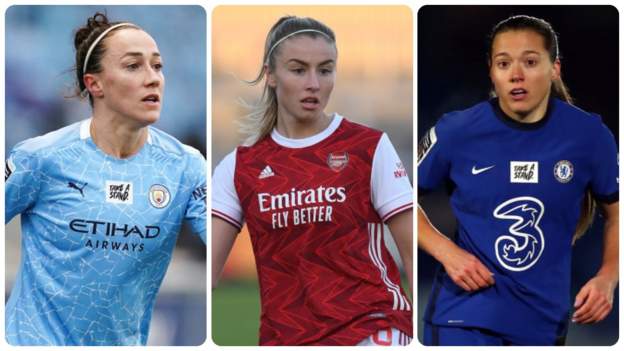 The BBC will present the Ladies's Tremendous League on community free-to-air TV for the primary time in a "landmark" three-year broadcast deal.
From subsequent season, WSL video games will probably be proven reside throughout the BBC and Skywithin the deal price £7m-£8m per season.
Remaining matches not chosen for broadcast by the BBC or Sky will probably be proven reside on FA Participant.
The BBC will broadcast 22 reside matches, with a minimal of 18 proven on BBC One or BBC Two.
Sky Sports activities will present protection of as much as 44 matches screened throughout the Essential Occasion, Premier League and Sky Sports activities Soccer channels.
The agreements with each broadcasters will run till the summer season of 2024.
The Soccer Affiliation's Kelly Simmons expects the deal will give the WSL an enormous viewers increase.
"It is among the largest offers commercially, undoubtedly for ladies's soccer when it comes to a home deal, and up there for ladies's sport," she mentioned.
"We now have benchmarks for what we predict are essentially the most profitable, high-profile girls's sport leagues on the earth just like the WNBA (Ladies's Nationwide Basketball Affiliation) and the NWSL (Nationwide Ladies's Soccer League), and they're low tons of of 1000's when it comes to a median peak per week.
"We anticipate this might considerably be above that."
England and Manchester Metropolis captain Steph Houghton instructed BBC Sport it was an "superb step ahead" for ladies's soccer and the gamers cannot wait to "present the world what an unbelievable league now we have".
"The way in which this sport has developed on this nation over the previous few years has been unbelievable," she added.
"I believe it will actually push our league to be the perfect in Europe, if not the world."
What are the printed particulars?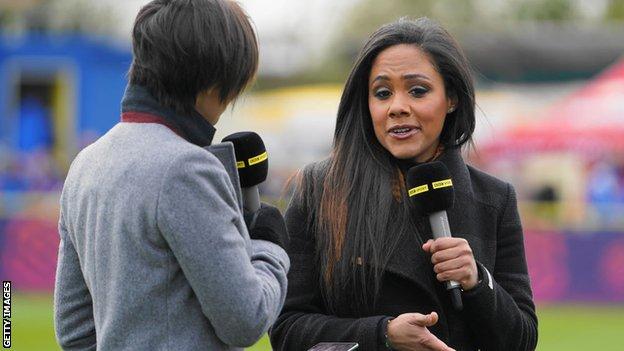 22 reside matches on BBC TV, together with a minimal of 18 on BBC One and BBC Two (remaining matches on the Crimson Button and on-line)

As much as 44 reside matches, with a minimal of 35, proven on Sky Sports activities Soccer, Premier League and Essential Occasion channels

Chosen fixtures can even be simulcast on Sky One and Sky Sports activities Combine

All broadcasters could have rights to on-line protection, in-play clips and highlights (WSL golf equipment even have rights to in-play clips and highlights)

Remaining matches not chosen for broadcast proven reside on FA Participant

There will probably be one free-to-air recreation on BBC each weekend, with Sky having two different picks

Chosen matches anticipated to be scheduled on Friday 18:30 GMT, Saturday 11:30 GMT, Sunday 12:30 GMT and Sunday 18:30 GMT

75% of funding income to go to WSL golf equipment, 25% to the Ladies's Championship
'A watershed second for the WSL'
Simmons, the FA's director of the ladies's skilled recreation, mentioned the deal mixed two main priorities for the FA: growing visibility of the WSL, in addition to attracting funding to additional develop the standard of the league.
"We simply desperately need extra and higher. It is at all times about trying ahead and making an attempt to repair the issues that we're not proud of. This appears like a type of actual step-change moments for the ladies's recreation," mentioned Simmons.
"The work we do now will probably be to challenge these future revenues down the road. We at all times mentioned to the golf equipment to consider and make investments and now this would be the begin of seeing that there is a capability for the sport to take earnings and [move away from] reliance, long run, on the boys's recreation.
"It'll be massively seen subsequent season. I am certain it will encourage 1000's and 1000's of women to play the sport so I simply cannot wait."
Kathryn Swarbrick, the FA's industrial and advertising director, added: "It is a second to have a good time – a watershed second within the WSL future – with simply an unbelievable outlook.
"That attain, mixed with this big funding into the sport, makes us actually assured that that is going to be an enormous leap ahead in attaining our ambition of getting the world's greatest home girls's skilled league."
How does the deal evaluate globally?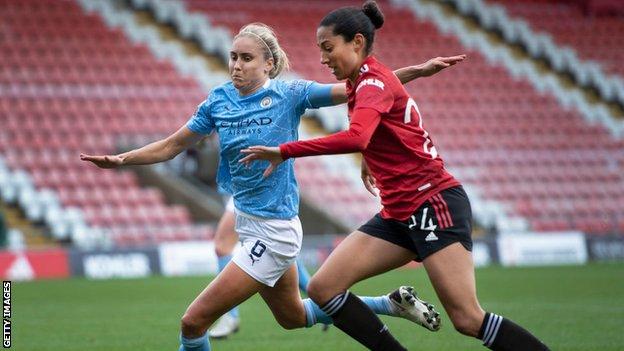 The FA mentioned it expects the viewers figures to be "considerably above" essentially the most profitable and "high-profile" girls's home sport leagues on the earth.
Additionally they mentioned it's "undoubtedly" the largest industrial broadcast settlement in girls's soccer.
"We'll be broadcasting extra reside video games, reaching a much bigger viewers and bringing in additional income than some other girls's home league on the earth," mentioned Swarbrick.
"I believe that may be a fairly massive testomony to the power of the product that the WSL now's."
A record-breaking 1.12 billion viewers watched the 2019 Ladies's World Cup, in accordance with Fifa, whereas 28.1m individuals watched BBC protection of the event on tv and on-line.
"We're attracting gamers from all around the world however on the similar time, English gamers on this league are testing themselves towards the perfect," mentioned Houghton.
"The usual of the league is growing and that is primarily as a result of individuals are coaching full-time.
"It is most likely solely over the previous few years – because the 2015 World Cup – that I believe it has expanded so fast. To be on the coronary heart of that's actually particular."


Morph.toInit.bundles.push(function() { !function(e){function t(r){if(n[r])return n[r].exports;var o=n[r]={i:r,l:!1,exports:{}};return e[r].call(o.exports,o,o.exports,t),o.l=!0,o.exports}var n={};t.m=e,t.c=n,t.d=function(e,n,r){t.o(e,n)||Object.defineProperty(e,n,{configurable:!1,enumerable:!0,get:r})},t.n=function(e){var n=e&&e.__esModule?function(){return e.default}:function(){return e};return t.d(n,"a",n),n},t.o=function(e,t){return Object.prototype.hasOwnProperty.call(e,t)},t.p="",t(t.s=3)}([function(e,t){e.exports=React},function(e,t,n){e.exports=n(5)()},function(e,t,n){"use strict";function r(e){return e&&e.__esModule?e:{default:e}}function o(){return this.url}function u(e,t){return e.url.replace("{identifier}",t[1])}var i=r(n(9)),a=r(n(10)),c=r(n(11));e.exports={youtube:{regex:/http(?:s)?://(?:www.)?youtu(?:be.com|.be)/(?:watch)?(?:/?)?(?:.*v=)?(.[^&#]*)/i,url:"https://www.youtube.com/embed/{identifier}",transform:u,component:a.default},twitter:{regex:/^http.+twitter.com/.*/status/(.*)/i,transform:o,component:i.default,cssClasses:"twitter-tweet",componentMount:function(){c.default.twitter()}},instagram:{regex:/^http.+instagr(?:.am|am.com)/i,transform:o,component:i.default,cssClasses:"instagram-media instagram-iframe-container",componentMount:function(e){c.default.instagram(e)}}}},function(e,t,n){"use strict";var r=function(e){return e&&e.__esModule?e:{default:e}}(n(4));Morph.modules["bbc-morph-sport-social-media-embed@2.3.2"]=r.default},function(e,t,n){"use strict";function r(e){return e&&e.__esModule?e:{default:e}}function o(){if("function"!=typeof WeakMap)return null;var e=new WeakMap;return o=function(){return e},e}function u(e){"@babel/helpers – typeof";return(u="function"==typeof Symbol&&"symbol"==typeof Symbol.iterator?function(e){return typeof e}:function(e){return e&&"function"==typeof Symbol&&e.constructor===Symbol&&e!==Symbol.prototype?"symbol":typeof e})(e)}function i(e,t){if(!(e instanceof t))throw new TypeError("Cannot call a class as a function")}function a(e,t){for(var n=0;n<t.length;n++)!1,r.configurable=!0,"value"in r&&(r.writable=!0),Object.defineProperty(e,r.key,r)}function c(e,t,n){return t&&a(e.prototype,t),n&&a(e,n),e}function l(e,t){if("function"!=typeof t&&null!==t)throw new TypeError("Super expression must either be null or a function");e.prototype=Object.create(t&&t.prototype,{constructor:{value:e,writable:!0,configurable:!0}}),t&&s(e,t)}function s(e,t){return(s=Object.setPrototypeOf||function(e,t){return e.__proto__=t,e})(e,t)}function f(e){return function(){var t,n=y(e);if(m()){var r=y(this).constructor;t=Reflect.construct(n,arguments,r)}else t=n.apply(this,arguments);return p(this,t)}}function p(e,t)"object"!==u(t)&&"function"!=typeof t?d(e):tfunction d(e){if(void 0===e)throw new ReferenceError("this hasn't been initialised – super() hasn't been called");return e}function m(){if("undefined"==typeof Reflect||!Reflect.construct)return!1;if(Reflect.construct.sham)return!1;if("function"==typeof Proxy)return!0;try{return Date.prototype.toString.call(Reflect.construct(Date,[],function(){})),!0}catch(e){return!1}}function y(e){return(y=Object.setPrototypeOf?Object.getPrototypeOf:function(e)Object.getPrototypeOf(e))(e)}function b(e,t,n){return t in e?Object.defineProperty(e,t,{value:n,enumerable:!0,configurable:!0,writable:!0}):e[t]=n,e}Object.defineProperty(t,"__esModule",{value:!0}),t.default=void 0;var h=function(e){if(e&&e.__esModule)return e;if(null===e||"object"!==u(e)&&"function"!=typeof e)return{default:e};var t=o();if(t&&t.has(e))return t.get(e);var n={},r=Object.defineProperty&&Object.getOwnPropertyDescriptor;for(var i in e)if(Object.prototype.hasOwnProperty.call(e,i))return n.default=e,t&&t.set(e,n),n}(n(0)),v=r(n(1)),g=n(7),_=r(n(8)),w=r(n(12)),O=r(n(13)),j=function(e){function t(e){var r;i(this,t),r=n.call(this,e),b(d(r),"getCaption",function(e){return e?h.default.createElement("figcaption",{className:"sp-c-media-asset__caption gel-brevier"},e):null});var o=e.url,u=e.brandingTool;return r.state={embed:h.default.createElement(_.default,{url:o,brandingTool:u}),showReportButton:!1},r}l(t,e);var n=f(t);return c(t,[{key:"componentDidMount",value:function(){if((0,g.getCookiePolicy)()){var e=this.props,t=e.url,n=e.title;this.setState({embed:new O.default(t,n),showReportButton:!0})}}},{key:"render",value:function(){var e=this.state,t=e.embed,n=e.showReportButton,r=this.props,o=r.caption,u=r.nopal;return h.default.createElement("div",{className:u?"sp-sport-embed-no-pal":""},h.default.createElement("div",{className:"sp-qa-sport-embed-container"},t,n&&h.default.createElement(w.default,{text:"Report"}),this.getCaption(o)))}}]),t}(h.Component);j.propTypes={url:v.default.string.isRequired,brandingTool:v.default.string,caption:v.default.string,title:v.default.string,nopal:v.default.bool},j.defaultProps={brandingTool:"",caption:"",title:"",nopal:!1};var E=j;t.default=E},function(e,t,n){"use strict";function r(){}function o(){}var u=n(6);o.resetWarningCache=r,e.exports=function(){function e(e,t,n,r,o,i){if(i!==u){var a=new Error("Calling PropTypes validators directly is not supported by the `prop-types` package. Use PropTypes.checkPropTypes() to call them. Read more at http://fb.me/use-check-prop-types");throw a.name="Invariant Violation",a}}function t(){return e}e.isRequired=e;var n={array:e,bool:e,func:e,number:e,object:e,string:e,symbol:e,any:e,arrayOf:t,element:e,elementType:e,instanceOf:t,node:e,objectOf:t,oneOf:t,oneOfType:t,shape:t,exact:t,checkPropTypes:o,resetWarningCache:r};return n.PropTypes=n,n}},function(e,t,n){"use strict";e.exports="SECRET_DO_NOT_PASS_THIS_OR_YOU_WILL_BE_FIRED"},function(e,t){e.exports=Morph.modules["bbc-morph-cookie-config@3.0.1"]},function(e,t,n){"use strict";function r(e){return e&&e.__esModule?e:{default:e}}var o=r(n(0)),u=r(n(1)),i=r(n(2)),a=function(e){return Object.keys(i.default).filter(function(t){return e.match(i.default[t].regex)})},c=function(e){var t=e.url,n=a(t)[0];return o.default.createElement("div",{className:"gs-u-clearfix"},o.default.createElement("a",{className:"sport-social-media-embed__cta gel-long-primer-bold",href:t},o.default.createElement("span",{className:"qa-cta-text gs-o-bullet"},o.default.createElement("span",{className:"gs-o-bullet__icon gel-icon sport-social-media-embed__cta-icon–embed"},o.default.createElement("svg",{viewBox:"0 0 32 32"},o.default.createElement("path",{d:"M12 0v5h11.5l-5 5H0v22h22V17.5l-2 2V30H2V12h14.5l-7.8 7.7 3.6 3.6L27 8.5V20h5V0"}))),o.default.createElement("span",{className:"gs-o-bullet__text gs-u-pl"},o.default.createElement("span",null,"View more on "),o.default.createElement("span",{className:"sport-social-media-embed__cta–embed-type"},n)))))};c.propTypes={url:u.default.string.isRequired},e.exports=c},function(e,t,n){"use strict";function r(e){return e&&e.__esModule?e:{default:e}}function o(e){"@babel/helpers – typeof";return(o="function"==typeof Symbol&&"symbol"==typeof Symbol.iterator?function(e){return typeof e}:function(e){return e&&"function"==typeof Symbol&&e.constructor===Symbol&&e!==Symbol.prototype?"symbol":typeof e})(e)}function u(e,t){if(!(e instanceof t))throw new TypeError("Cannot call a class as a function")}function i(e,t){for(var n=0;n<t.length;n++)!1,r.configurable=!0,"value"in r&&(r.writable=!0),Object.defineProperty(e,r.key,r)}function a(e,t,n){return t&&i(e.prototype,t),n&&i(e,n),e}function c(e,t){if("function"!=typeof t&&null!==t)throw new TypeError("Super expression must either be null or a function");e.prototype=Object.create(t&&t.prototype,{constructor:{value:e,writable:!0,configurable:!0}}),t&&l(e,t)}function l(e,t){return(l=Object.setPrototypeOf||function(e,t){return e.__proto__=t,e})(e,t)}function s(e){return function(){var t,n=m(e);if(d()){var r=m(this).constructor;t=Reflect.construct(n,arguments,r)}else t=n.apply(this,arguments);return f(this,t)}}function f(e,t)"object"!==o(t)&&"function"!=typeof t?p(e):tfunction p(e){if(void 0===e)throw new ReferenceError("this hasn't been initialised – super() hasn't been called");return e}function d(){if("undefined"==typeof Reflect||!Reflect.construct)return!1;if(Reflect.construct.sham)return!1;if("function"==typeof Proxy)return!0;try{return Date.prototype.toString.call(Reflect.construct(Date,[],function(){})),!0}catch(e){return!1}}function m(e){return(m=Object.setPrototypeOf?Object.getPrototypeOf:function(e)Object.getPrototypeOf(e))(e)}Object.defineProperty(t,"__esModule",{value:!0}),t.default=void 0;var y=r(n(0)),b=r(n(1)),h=function(e){function t(){return u(this,t),n.apply(this,arguments)}c(t,e);var n=s(t);return a(t,[{key:"componentDidMount",value:function(){var e=this.props.componentMount;e&&e.bind(this)()}},{key:"render",value:function(){var e=this.props,t=e.cssClasses,n=e.title,r=e.url;return y.default.createElement("div",{className:"sp-qa-sport-social-media-embed"},y.default.createElement("blockquote",{"data-instgrm-captioned":!0,scrolling:"no",className:t},y.default.createElement("a",{href:r},n)))}}]),t}(y.default.Component);h.propTypes={componentMount:b.default.func.isRequired,cssClasses:b.default.string,title:b.default.string,url:b.default.string.isRequired},h.defaultProps={cssClasses:"",title:""};var v=h;t.default=v},function(e,t,n){"use strict";function r(e){return e&&e.__esModule?e:{default:e}}function o(e){"@babel/helpers – typeof";return(o="function"==typeof Symbol&&"symbol"==typeof Symbol.iterator?function(e){return typeof e}:function(e){return e&&"function"==typeof Symbol&&e.constructor===Symbol&&e!==Symbol.prototype?"symbol":typeof e})(e)}function u(e,t){if(!(e instanceof t))throw new TypeError("Cannot call a class as a function")}function i(e,t){for(var n=0;n0))return a.default.createElement(n.component,{url:n.transform.call(this,n,e),title:this.title,cssClasses:n.cssClasses,componentMount:n.componentMount});return a.default.createElement(c.default,{url:this.url,title:this.title})}function i(e,t){return this.url=o(e),this.title=t,u.call(this)}var a=r(n(0)),c=r(n(14)),l=r(n(2));e.exports=i},function(e,t,n){"use strict";function r(e){return e&&e.__esModule?e:{default:e}}Object.defineProperty(t,"__esModule",{value:!0}),t.default=void 0;var o=r(n(0)),u=r(n(1)),i=function(e){var t=e.url,n=e.title;return o.default.createElement("a",{href:t},n)};i.propTypes={url:u.default.string.isRequired,title:u.default.string},i.defaultProps={title:""};var a=i;t.default=a}]);
//# sourceMappingURL=bundle.js.map;
});